Institutional processes, protocols, and operational needs can differ substantially from one organization to the next. To alleviate this, OriGen prioritizes the capability to adapt products to better fit your organization's needs, not force you to adapt to match OriGen's existing products.
This is done through OriGen's Custom Product Development process.
What are the results? Depending on your needs, a variant of an OriGen product may be created tailored to fit your needs or a new, custom product could be created to meet your exact requirements.
This could mean providing a PermaLife Cell Culture bag with tubing that easily integrates into a closed process. Or it could mean a multi-bag set that makes it easier to fill many bags at the same time in a seamless manner. OriGen is here to work with you every step of the way to provide a product that completely fits your needs. Our business development team and product engineers collaborate with you directly to find the best solution that is cost-effective, optimally designed, and available as soon as possible.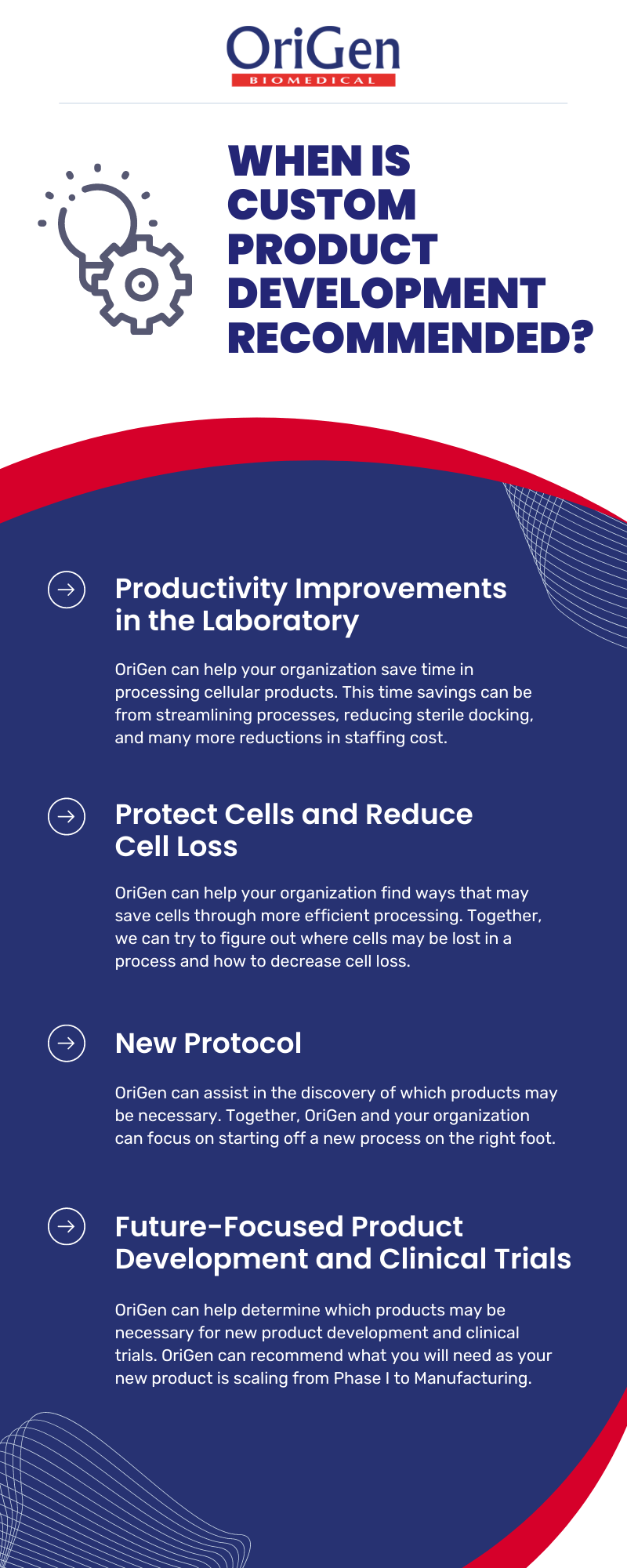 Steps of the Process
Client Concept – A customer will approach OriGen with an unmet need or pain point for their cell therapy process.
Design Inputs – We work with the customer to create a list of design needs and inputs to incorporate into the product's design.
Project Evaluation – We evaluate the feasibility of the project as presented, including a regulatory assessment. OriGen will suggest the next steps for the customer.
Proposal – OriGen will provide a complete proposal and documentation that will include a concept product drawing, pricing, and lead times.
Samples + Design Updates – We will provide samples of your product and make design modifications based on feedback, if necessary.
Finalize the Product – After the sample review, the new product details will be finalized, including any necessary regulatory registrations, and OriGen will place the product into its manufacturing schedule.
Success Story: Development of the CS50V7
OriGen has participated in developing and manufacturing multi-bag sets that allow for efficiencies when filling final cryopreservation bags, including the
CS50V7
which is available by special order. This multiple bag set features ten CryoStore 50 EVA freezing bags, one CryoStore 750 EVA freezing bag, and a "V7" Tube Set – female luers with caps, "Y" connectors, pinch clamps, slide clamps, co-extruded EVA/PVC tubing, and a 30 cm PVC tube.
Initial Concept – A research facility approached OriGen for a multi-bag set that would allow for the efficient fill of nine 10-30mL cryopreservation bags. The customer provided OriGen with a sketch of a set that they thought could be a solution.
Assessment – Through meetings with the customer, OriGen's engineer and skilled Business Development Team were able to provide feedback on what would further improve their proposed concept.
Approval – After a few iterations and rounds of feedback with the customer, the bag set was approved by both OriGen and the customer for manufacturing.
Manufacturing – OriGen strives to have manufacturing completed within the quoted lead time of receipt of the purchase order for the new product. This set, known as the CS50V7, is now being used in multiple applications, including a few cell therapies approaching commercialization.
Automation Integration
When our customers choose to automate your upstream or downstream processes, they often want to continue to use the same bags that they know and trust to hold precious cell and gene therapies. OriGen is here to work with integrating into any automation platform.
Read more about Custom Product Development here.